Learn to play golf like a pro
Coaching for kids and adults on the skills and mindset to become confident golfers
Are you ready to be part of the golf revolution?
There has never been a better time to learn the game.
Why?
Golf stereotypes are disappearing, and a more diverse fan base is emerging!
According to the National Golf Federation:

1
For five years in a row in the U.S., over 2 million beginners ages six and over picked up a club and started playing golf for the first time.

2
Of the 2.5 million Junior golfers who played on a golf course last year, more than a third of them were girls.

3
Nearly one in four Junior golfers are members of minority groups, with diversity quadrupling in the last 20 years.
Golf is for everyone, and Louis Hampton III is proud to be part of that movement.
He coaches adults and young people from all walks of life to learn and love the game of golf.
His lessons focus on fundamentals, etiquette, and rules, but there's more to golf than just the mechanics.
Louis is a Certified Coach for US Kids Golf and the Program Director of the Jumping Brook Country Club Junior Golf Academy in Neptune, New Jersey.

Notable Nominations
2019 – NJ PGA Assistant Golf Professional of the Year
2019 – NJ PGA Player Development Award
2021 – NJ PGA Youth Player Development Award
2023 – NJ PGA Youth Player Development Award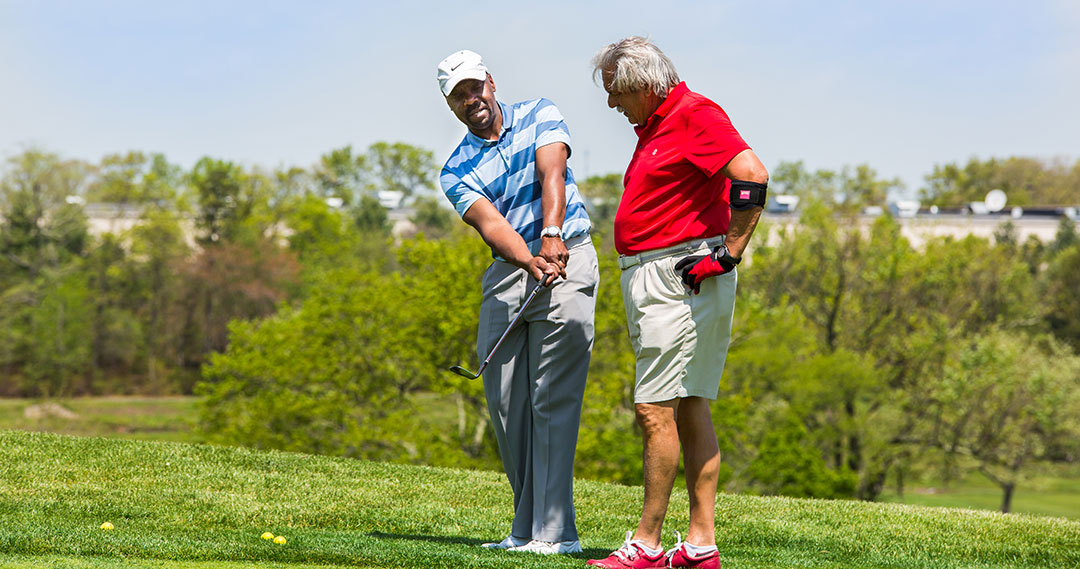 Here's a secret:
It isn't all about your swing.
Each golfer deserves individualized instruction to develop their technical skills, but Louis' coaching doesn't stop there.
He works with each student to provide guidance on the mental approach to the game, which can be a key component in their development as a player. 
When his NJ PGA Junior League team of boys and girls age 13 and under claimed the section title in 2018, it was their winning mindset that elevated their game and propelled them to victory. Louis was supremely proud of those kids, and he knows that every one of his students can benefit from a strong mindset.
Does the idea of golf sound intimidating?
Golf can sometimes seem like an exclusive sport only meant for corporate types.
But in reality, golf is the purest game and accepts all players, regardless of age, gender, address, or economic standing.
It's a game you can share with friends and continue to enjoy into your senior years.
All you need to do is learn the basics from a good coach.


Operation 36 is a unique developmental teaching program. The mission of Operation 36 is to foster a love of golf in people young and old while creating one million new golfers over the next five years.
The program aims to help coaches introduce new golfers to the sport and help retain them as avid players for the long term.
Operation 36's efforts also include both a phone app and an accompanying practice program to help players track their progress with a combination of clinics and on-the-course experience.
Do you want to see how far you can go with your golf game?
Schedule a lesson today, and let's start you on your journey to playing like a pro!
210 Jumping Brook Rd, Neptune, NJ 07753
(732) 922-6140 (Golf Shop)
  (770) 364-1097 (Cell)